Alternative High Garden

This garden is adjacent to the Alternative High School whose mission includes encouraging key philosophies of democracy and community. The garden is located to the south end of the school buidling.
Features
This garden includes 40 - four by four and four by eight foot garden beds. Access to this garden is limited to outside of school hours. Watering is done by hand. The garden and surrounding green space is pesticide free. Please contact the Garden Liason for more information about this garden. The garden is located close to parking and bus stops. The Alternative High Garden is located in a sun dappled corner of the school field located close to benches and mature trees.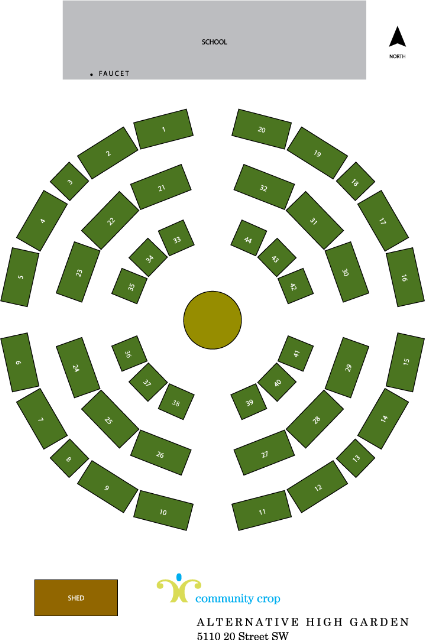 History
In 2010 Community Crop took over the already established Alternative High Garden. This garden was originally built by Calgary Alternative Support Service, a non profit agency that offers community support services to adults with disabilities. Today the garden is used by Community Crop gardeners.
User Responsibilities of Alternative High Gardeners
Access to this garden is limited to after-school hours, as follows:
July 1 to August 20 anytime.
Between August 21 and June 30, Saturdays and Sundays anytime, Mondays to Fridays 4 pm to 10 pm only.
Access to the garden site during school hours, access to the school building, or any direct contact with Alternative High students will require prior written approval from Community Crop and Alternative High School and may include a valid security clearance check.